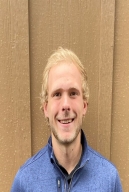 Alex Nelson – Assistant Teaching Professional

Instructor Biography
Alex graduated from Pacific Lutheran University in 2020 with a degree in business. He played four years of collegiate golf for the Lutes and is entering into the PGA of America. Alex is entering his fourth year of teaching at the Mt Si Junior Golf Academy. This will be his second year as the program director. He grew up playing golf in the Snoqualmie Valley and spent time working at Mount Si Golf Course, Glendale Country Club, and Lake Spanaway Golf Course. Alex enjoys studying technique, mental skills training, course management, and golf fitness. His passion is helping jr golfers develop their skill for a bright future on and off the golf course.

Outside of golf, he enjoys backpacking, camping, playing sports and is a huge Seattle sports fan. Alex's competitive background has brought him into contact with players of all skill levels and ages. He has a passion for helping people enjoy and compete in the game of golf.
To book a lesson with Alex you may contact him at 425-281-0058 or send him an email at alex@mtsigolf.com.
Adult Lessons
1 student
| | |
| --- | --- |
| Lesson Type | Fee |
| One 50 Minute Lesson | $80 |
|   |   |
Junior Lessons
1 student
| | |
| --- | --- |
| Lesson Type | Fee |
| One 50 Minute Lesson | $60 |
|   |   |
Adult Group Lessons
1 hour lessons
2 to 6 students
| | |
| --- | --- |
| Lesson Type | Fee |
| Single Lesson | $45 each student |
|   |   |
Junior Group Lessons
1 hour lessons
2 to 6 students
| | |
| --- | --- |
| Lesson Type | Fee |
| Single Lesson | $35 each student |
|   |   |
Family Lessons
1 hour lessons
$100